With blogging comes the discovery of new blogs which then leads to the discovery of new businesses and products. I recently stumbled upon the Lyss Loo online clothing company through another blogger and soon after a collaboration was born! It is always so exciting to establish new blogger-brand collaborations – especially when they come with a twist. Lyss Loo specializes in closet staples for misses to plus sizes while also offering pieces with unique flair.
So excited to show you this twist-back shirt I am styling today!
The gorgeous royal blue hue just so happens to be one of my school colors! Seventeen-year-old Amy would have never guessed that 30-something Amy would still be fussing over school colors, but since I happen to love royal blue anyway, it's all good with me.
I love anything with a twist. Don't you? The drapes across the back of this shirt are so fun and unexpected. I love how this shirt kind of has a "business in the front, party in the back" vibe going. Additionally, the fabric is so smooth and soft to the touch. I can picture styling this with slacks and a camisole to kick up some fun on a workday. It's also a great shirt for a favorite pair of jeans and sneakers as I have styled it here. And, of course, I can always go take it all festive in true school spirit form!
My photos were taken during a family photo shoot with our lovely family photographer, Lori Sparkman. Find her at Lori Sparkman Photography! All photos on this page are courtesy of her. I'm not involving the munchkins this week, and it feels weird to have a post only about me!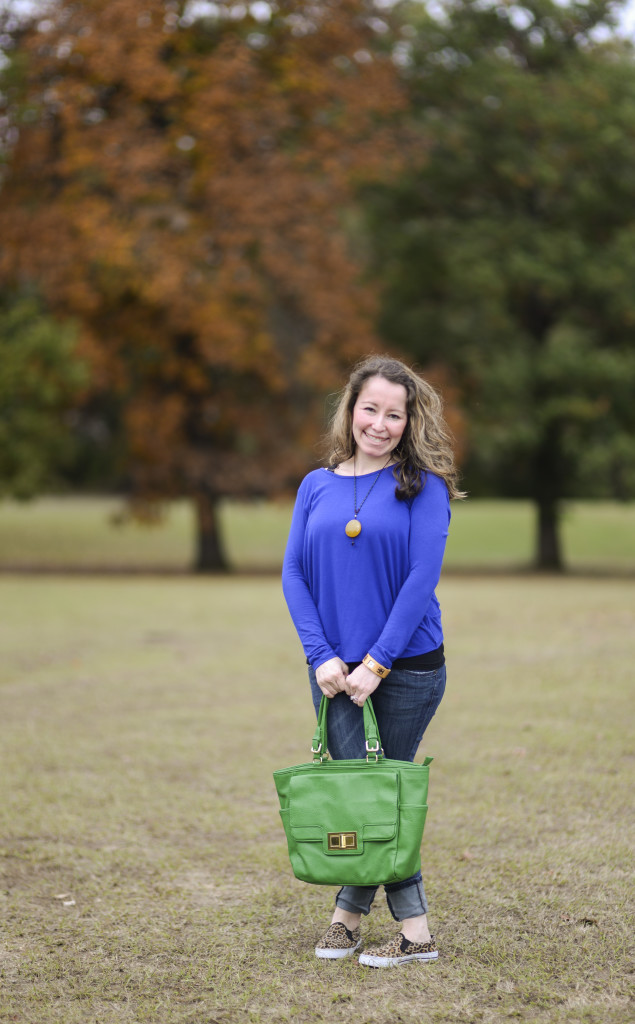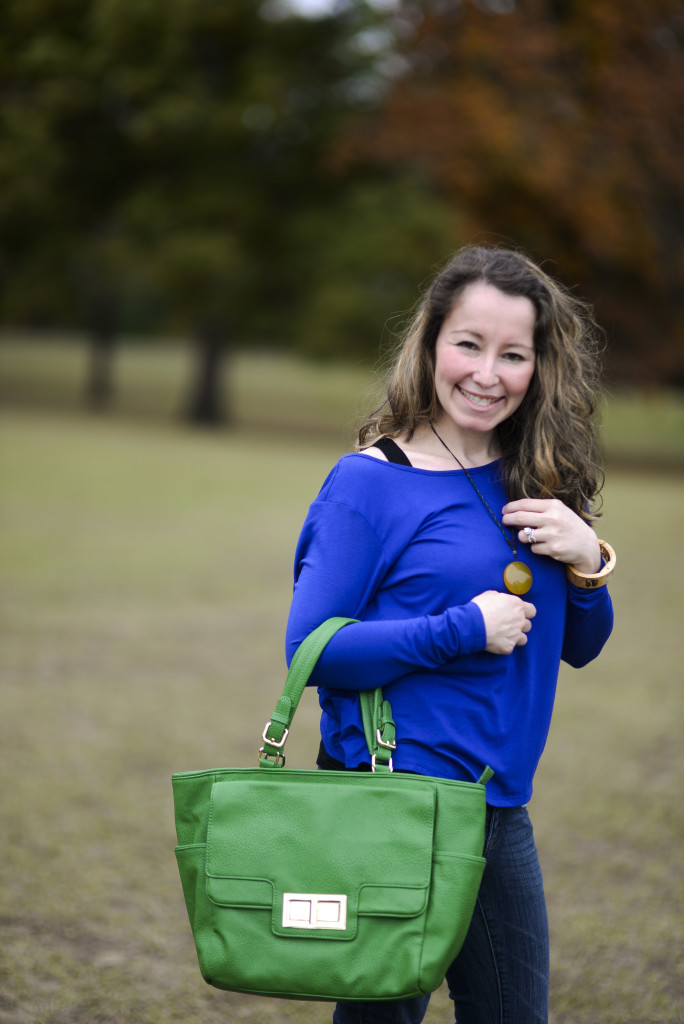 On Amy:
Royal blue twist-back top: c/o Lyss Loo
Jeans: Target
Green bag: TJ Maxx
Leopard shoes: Zulily
Necklace: gifted from friend
Wooden watch: Smith-Caldwell – Benton, AR
Scooter Britches and Little One will be back next week!
Want to follow Amy and
The Gift Gabber
? Check her out on the following platforms: